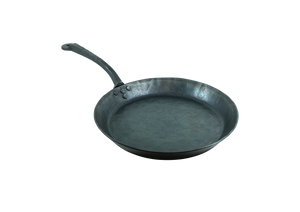 Kanatoko Hand Forged Iron Frying Pan 300mm (3mm/ Custom Ordered)
Regular price
$595.00
$0.00
Brand: Kanatoko 鍛冶工房 金床
Maker: Kazuyoshi Akita 秋田 和良
Producing Area: Fukuyama-Hiroshima/ Japan
Product Type: Frying Pan
Size: 543 x 300 x 38mm
Weight: 2439g
The Kanatoko Hand Forged Iron Frying Pan is a high-quality kitchenware made in Japan. It is handcrafted by Kazuyoshi Akita, who is based in Fukuyama-Hiroshima.
The frying pan is made of iron, which is known for its excellent heat retention and durability. The 300mm size is larger than the standard 240mm version and is ideal for cooking larger dishes or for those who need more space when cooking.
The surface of the pan is carefully hand-finished to create a natural non-stick surface. This means that the pan requires minimal oil for cooking, making it a healthier option for those who are conscious of their diet.
The handle of the pan is also made of iron and is securely attached to the body of the pan with rivets. The handle is designed to stay cool during use, making it easy to maneuver the pan on the stovetop.
The pans from Kanatoko is something of a staff favorite and a buy it for a lifetime tool.
The pictures and dimensions listed are for reference. As these are handmade items containing natural products, there may be variances in appearance and specifications.
---
Share this Product
---
More from this collection