• Hokuto Aizawa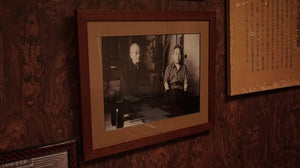 Sakai, Sanjo, Echizen, Seki and Miki - these are places known for kitchen knife production in Japan. Sakai is best known for making 90% of Japan's single bevel knives. But did you know that there were also many bladesmiths in Tokyo before? When speaking to anyone of that particular era in Japan, they will always remember the sounds of forging throughout Tokyo every day. During the Edo period, Ieyasu Tokugawa, the head of the Edo Shogunate wanted to build a strong trade community where Edo would be filled with master craftsmen. As a result, Kajiya-cho (Blacksmith Village) was built, which...
---
• Hokuto Aizawa
Morihei(森平) is a knife and whetstone supplier located in Asakusabashi, Tokyo. They have been a part of the industry for over 100 years, including the predecessor of Morihei "Oguro-Morihei-Shouten (小黒森平商店)". At one point in time, more than 20 groups of blacksmiths and sharpeners were working exclusively under Morihei. They are one of the only companies in Japan with a long-standing history of relationships with blacksmiths and whetstone and natural stone makers that still exists today. Mr. Akimitsu Oguro, the president of Morihei, is the advisor for natural stone researchers from universities and government groups. People who visit Morihei for technical...
---
• Hokuto Aizawa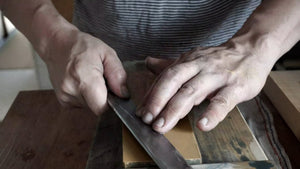 Hitohira is a Japanese knife, tool and lifestyle item supplier, created by an experienced and passionate knife user and seller who has worked extensively in Japan and North America. Hitohira is a source dedicated to sharing and educating knife enthusiasts on the proper use and maintenance of their knives and other bladed tools.
---
• Hokuto Aizawa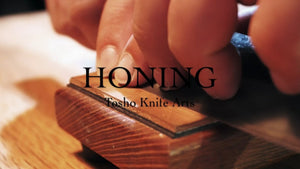 ---
• Hokuto Aizawa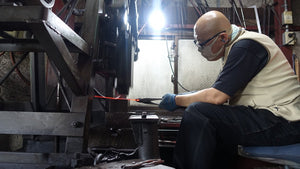 Forged by Shosui Takeda of Takeda Hamono, in Okayama Japan. This vintage Yanagiba was forged in 2008 in memory of an old friend of Takeda's from Germany. In 2015, we visited Takeda's workshop and stumbled upon this knife and 14 other  knives that were in pretty bad shape from years of sitting in the workshop uncared for. After asking for his permission, Takeda allowed us to re-finish this Yanagiba. We took it to the finest sharpener in all of Sakai. The Yanagiba, made of super blue steel by Takeda's expert hand, was so hard that it took the Sakai sharpener...